How can we serve you?
When water backs up into your sink, or overflows from your washing machine drain line onto your utility room floor, call Quest, your best resource for an experienced plumber in San Antonio and the surrounding area.  Not only will we unclog your drain, but we can also determine the cause so that it doesn't happen again. We have all of the latest technology when it comes to drain cleaning and inspection. Unlike other companies, we don't have pricing gimmicks to get us in the door, and then find another way to make up for our loss, just honest pricing for a normally frustrating situation.
Following are common items that cause clogged drains:
Grease - Pouring cooking grease, oil, or fat into a sink can cause blockage.  Even though the grease may be liquid, it solidifies as it cools. Instead, keep an aluminum can or milk carton handy to collect grease and dispose of it properly.
Paper - Toilet paper is specially made to break down quickly in water.  Most other types of paper are not, including paper towels, napkins, feminine hygiene products, diapers, cleaning wipes, dental floss and cigarettes. Some paper products say they are biodegradable, but that does not mean they are safe to flush in your commode. Some products say "flushable", but should not be flushed if you have a special situation like a septic system, or older waste piping.
Food - While you might think it's safe to put most food items through your garbage disposal, the truth is that there are many foods you should put into your garbage instead.  Items to keep out of your garbage disposal include cooked and uncooked pasta or rice, cooked or raw meat, potatoes, potato peels, fruit rinds, flour, eggshells, asparagus, onion peels, lettuce and other leafy greens, celery, corn husks, bones, and coffee grounds.  When you do place food in your garbage disposal, run cold water for several seconds to make sure the food is flushed through the pipes.
Hair - It often takes 2 years or more for hair to biodegrade.  Use a filter or strainer to keep hair from going down the drain of your shower, bath tub, and sink.
Whether you have a toy flushed down the toilet, a valuable dropped in the sink, the kitchen sink is backing up, the shower is draining slow, or everything backing up at once, contact us for experienced professional drain cleaning.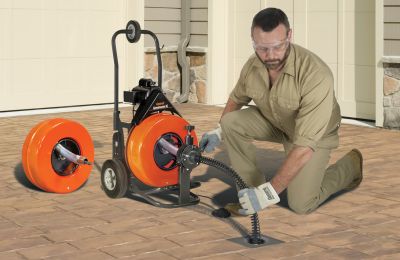 Drain cleaning services we offer:
Multiple size drain augers to fit your need
Hydro jet drain cleaning
Drain line video inspections
Drain video recording when necessary
Clear drains for sinks, tubs, showers and garbage disposals
Whole house drain cleaning
"The guys are very knowledgeable when it came to replacing the water heater. Was very impressed with the end results of their work. They left the area better than when they found it."
- Hearthstone BakeryCafe Customer since 2014
"This time Quest saved me from a bona fide home emergency - a clogged drain that caused water to keep backing up into a sink and overflow, flooding my flooring. Matt Zimmerman personally responded to my urgent call for help and assured me, although Quest's schedule was booked solid, he would somehow fit me into it. Sure enough, Clint and Briley arrived and within 30 minutes had the problem solved and everything cleaned up for less than I expected it might cost. I can't say enough good things about not only the quality of Quest's work but also its responsiveness to its customers."
- Paul R. Customer since 2012
"Quest plumbing has performed excellent work and thoroughly explained all of the major upgrades and repairs our home required. Clint is an excellent plumber and an excellent person. He has gone above and beyond to be helpful and ensure success in our total home remodel."
- Anonymous Verified customer
"We are doing some remodeling that required the toilets in our house to be relocated. Needless to say, it was something that we needed done in a speedy manner. Quest Plumbing was great, came out when promised and completed the work in short order. Clean, Neat and affordable. Recommend them without hesitation."
- James & Sonia L. Customer since 2018
"Quest Plumbing did a truly excellent job of completely re-plumbing my 19 year old leaky (8 leaks in two years) house. They not only replaced all copper pipes with insulated plastic tubing but, in addition, set up a hot water pumping system which provides hot water at all outlets in seconds (verses minutes) after turn-on and installed safety bars in the showers. I have been utilizing these lads for nearly 8 years and highly recommend them to anyone needing a plumbing fix or upgrade at a reasonable price."
- Weldon C.