How can we serve you?
Quest Plumbing is experienced in water heater service, repair, replacement, and new installation in San Antonio, TX.  We have highly knowledgeable licensed plumbers that will assess your situation and provide honest solutions and recommendations without the pressure of a sale.  If you are concerned about energy conservation, available space, demand, volume, or instantaneous hot water, and you are in need of a water heater replacement, we can discuss the best options for you.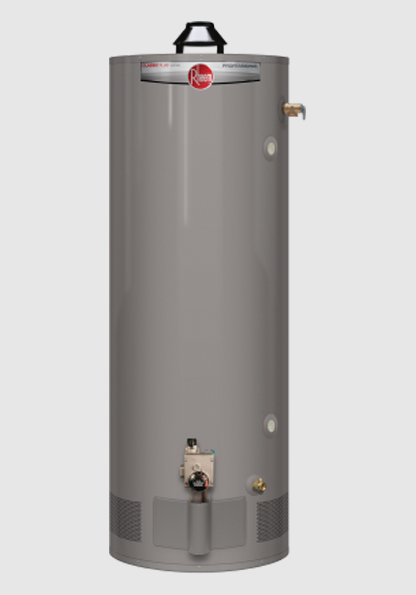 Water Heater Service
Water heaters should be serviced and maintained regularly, especially considering San Antonio's hard water.  We have service solutions for your heater, whether it be supplied with hard or soft water. Did you know that each situation (hard or soft water) has a different effect on your water heater, which will shorten the heater life if not properly maintained.  If you haven't serviced your water heater lately, call the team at Quest.
Water Heater Repair
Believe it or not, unlike many companies, we believe in repairing water heaters when it makes economic sense.  We have experience repairing all the major water heater brands, and stock many of the repair parts commonly needed.
Instant Hot Water
Does it take a long time for your water to get hot?  We have solutions to improve the hot water delivery time.  This will decrease water waste while improving comfort and cleanliness.
Water Heater Replacement
We have options to fit your needs:
Standard Tank Type:
This is still the most common water heater used, and there are many brands available, but not all brands have the best reliability in this area with these water conditions.  We have had the best experience with the Rheem Professional water heater in this area. Many of these tank-type water heaters are installed in our attics, where they pose additional risk of water damage if not properly installed and maintained.  We always take added precautions and have additional options available to minimize risk of damage considering attic installations. These heaters can be paired with pumps, valves, and sensors to improve your hot water.
Tankless Water Heaters
A common misconception is that tankless water heaters provide instantaneous hot water.  This is not the case, but rather they heat the water instantaneously. What this means to you is an endless supply of hot water at less energy cost per gallon when installed properly.  We have tankless options that provide instantaneous endless hot water. If you are going to invest in a new tankless water heater, you need to be sure it will be installed properly. There are many changes needed when retrofitting from an old tank-style water heater, such as gas or electric supply, vent, water circulation, and vent & combustion air just to name a few.  If you are considering a tankless water heater, you can be sure we will design a system that fits your needs and is applicable to your unique situation.
Commercial Water Heaters
Whether it be a small point of use water heater, or a large high volume heater, we can serve your commercial water heating needs.
"The guys are very knowledgeable when it came to replacing the water heater. Was very impressed with the end results of their work. They left the area better than when they found it."
- Hearthstone BakeryCafe Customer since 2014
"This time Quest saved me from a bona fide home emergency - a clogged drain that caused water to keep backing up into a sink and overflow, flooding my flooring. Matt Zimmerman personally responded to my urgent call for help and assured me, although Quest's schedule was booked solid, he would somehow fit me into it. Sure enough, Clint and Briley arrived and within 30 minutes had the problem solved and everything cleaned up for less than I expected it might cost. I can't say enough good things about not only the quality of Quest's work but also its responsiveness to its customers."
- Paul R. Customer since 2012
"Quest plumbing has performed excellent work and thoroughly explained all of the major upgrades and repairs our home required. Clint is an excellent plumber and an excellent person. He has gone above and beyond to be helpful and ensure success in our total home remodel."
- Anonymous Verified customer
"We are doing some remodeling that required the toilets in our house to be relocated. Needless to say, it was something that we needed done in a speedy manner. Quest Plumbing was great, came out when promised and completed the work in short order. Clean, Neat and affordable. Recommend them without hesitation."
- James & Sonia L. Customer since 2018
"Quest Plumbing did a truly excellent job of completely re-plumbing my 19 year old leaky (8 leaks in two years) house. They not only replaced all copper pipes with insulated plastic tubing but, in addition, set up a hot water pumping system which provides hot water at all outlets in seconds (verses minutes) after turn-on and installed safety bars in the showers. I have been utilizing these lads for nearly 8 years and highly recommend them to anyone needing a plumbing fix or upgrade at a reasonable price."
- Weldon C.